Roman cuisine is loved for being exceedingly flavorful, simple and satisfying. Continuing centuries of old-school traditions, dishes in the capital have their roots in 'poor man's food' and are often prepared using few ingredients in creative ways, constituting a cuisine that is full of character and pays homage to the local delicacies in the Lazio region. From the city's favorite street foods and its famous pasta dishes to vegetable and offal stews, here is a list of food you need to try in Rome, and where best to do so.
1. Supplì at I Supplì
Any Roman will agree, the best way to whet your appetite before digging into a personal pizza is with fritti: deep-fried goodies that are tasty, comforting and oh-so-satisfying. A classic choice is the supplì, a fried rice-ball mixed with ragù and mozzarella and cooked to perfection. Try it at I Supplì, a takeaway joint in Trastevere that makes delicious variations.
2. Fiori di Zucca at Emma
Another fried favorite is Fiori di Zucca, battered zucchini flowers stuffed with mozzarella and anchovies. Not only is it a beautiful dish, it is extremely flavorful: picture the mozzarella oozing and the anchovies give it a nice kick. If you'd prefer to try it sans fish though, Emma makes a delightful version with only mozzarella (you can't go wrong with any of the fritti here).
3. Baccalà at Dar Filettaro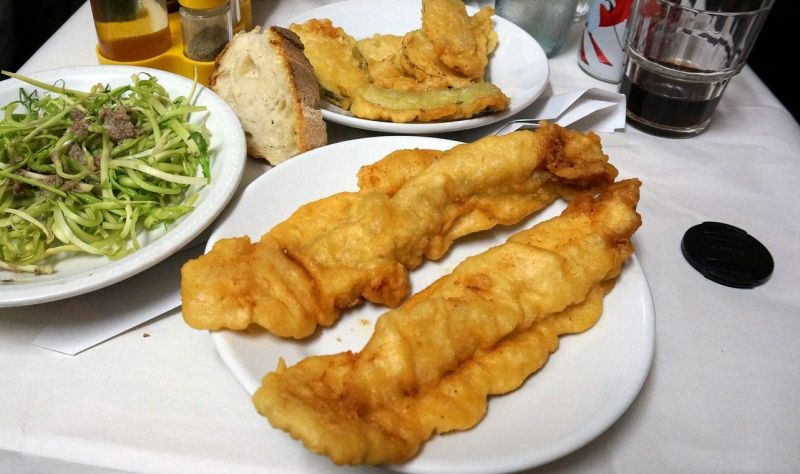 Cod is popular in Mediterranean cuisine and is a staple of Roman Jewish cuisine. In Rome you'll find the salted cod fried in an eggy batter and served piping hot. Taste it at Dar Filettaro, a minuscule spot with a bright 'Filetti di Baccalà' sign near Campo de Fiori that has been serving up the fish to hungry patrons since the 1950s – and the aesthetic hasn't changed one bit.
4. Carciofo alla Romana at Hostaria Romana
Roman artichokes are another mainstay of Roman Jewish cuisine and they just may change the way you think of this vegetable. Artichokes cooked alla Romana style are braised, stuffed with herbs and sprinkled with lemon until they acquire a buttery texture and melt in your mouth. They're a seasonal appetizer, so you'll only find artichokes on the menu in the spring and fall. Order them at a typical trattoria such as
5. Pizza al Taglio at Pizzarium
Each region of Italy has its preferred street food and in Rome it is certainly pizza by the slice. While Romans tend to stick to simple pairings (tomato sauce with parsley, focaccia with rosemary and sea salt), Gabriele Bonci has inaugurated a whole new world of flavors at Pizzarium. His creative combinations span all flavors and shades of the rainbow: figs with Parmesan, pumpkin cream with mozzarella and pancetta… Be sure to order a selection of slices for the best experience.
6. Pizza Romana at Da Remo
Though pizza was originally invented in Naples, the Roman version is thinner, crisper, and lighter than its Neapolitan cousin. Again, flavors tend towards simple: many Romans opt for a classic margherita or add a pair of ingredients. For more oomph, order the capricciosa topped with prosciutto, mushrooms, olives and a hard-boiled egg. Da Remo in Testaccio makes a great pie in a traditional atmosphere for an all-around Roman atmosphere.
7. Carbonara at Roscioli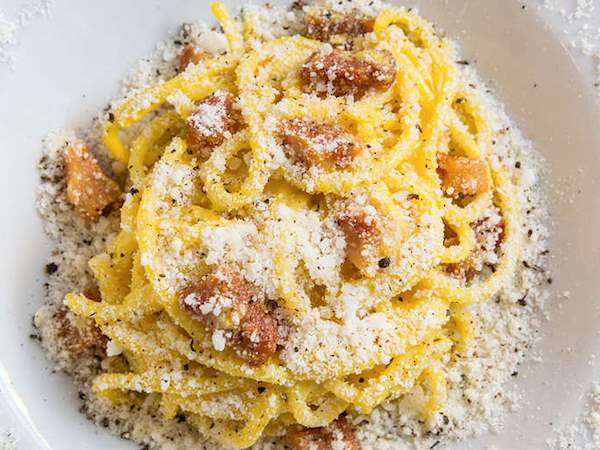 Onwards to pasta! A perfect carbonara is the cherry on top of a perfect experience in the city. This creamy egg-based sauce is dotted with pieces of succulent guanciale (cured pork jowl) and a healthy dash of black pepper to balance the flavors. Roscioli is renowned for preparing one of the best versions of this dish inside its trendy deli-restaurant atmosphere.
8. Bucatini all'Amatriciana at Da Bucatino
Amatriciana is another favorite: this tomato-based pasta also features crispy guanciale (cured pork jowl) and is typically served with bucatini noodles, which are similar to thicker, hollow spaghetti. Be careful because you can make a mess slurping up the deliciousness of this dish – at Da Bucatino you'll be handed a stylish bib to avoid any accidents!
9. Cacio e Pepe at Da Felice
Vegetarians will be pleased to see cacio e pepe on almost every menu in the city. Despite being exceedingly simple and only featuring two ingredients, this dish really packs a punch. Hand-rolled tonnarelli noodles are topped with salty pecorino cheese, plenty of black pepper and whisked with pasta water to create a mouthwateringly creamy, cheesy and mildly spicy sauce. Da Felice makes one of the most famous renditions of this dish, with the waiters adeptly mixing up the noodles at your table.
10. Saltimbocca alla Romana at Da Teo
Aptly named 'jump in your mouth,' this entreé is juicy and delicious. Hearty slices of veal are topped with prosciutto crudo and fresh sage, then marinated with white wine. Simple yet succulent, it is classic Roman cooking at its best. Order it at Da Teo, a charming ivy-clad trattoria in Trastevere.
11. Coda alla Vaccinara at Flavio al Velavevodetto
An ox-tail stew might not immediately appeal to the faint of heart (or stomach) but Roman cuisine has its roots in 'poor man's food' and is is well-known for its creative uses of offal. Affectionately referred to as the quinto-quarto, workers at the city's enormous slaughterhouse in Testaccio were often compensated in these extra bits, tasking them to come up with flavorful solutions. Coda alla vaccinara is a rich tomato-based stew that incorporates flavorful vegetables, pancetta, a dash of red wine and cinnamon to create a comforting dish. If you're brave, order it at Flavio al Velavevodetto, a restaurant in the Testaccio neighborhood that prepares excellent classic dishes.
12. Panino with Trippa alla Romana at Mordi e Vai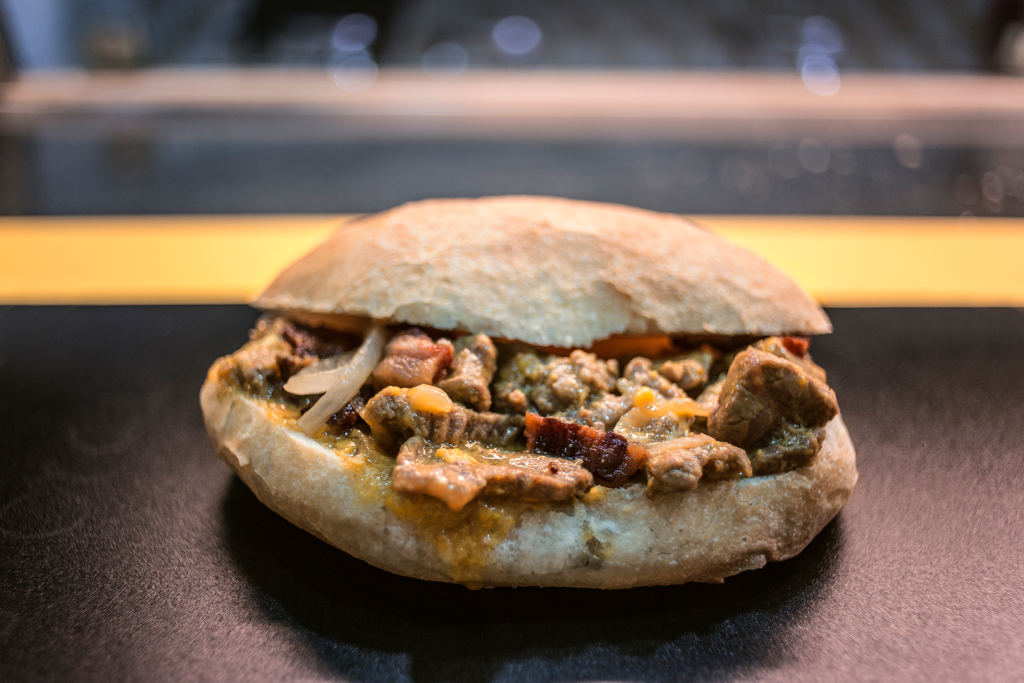 Tripe (cow stomach) is another member of the quinto-quarto family that makes many an appearance on traditional menus in Rome. Trippa alla romana is another dish that originated in the Testaccio neighborhood: it is prepared by simmering the tripe in a flavorful tomato sauce and topped with fresh mint and pecorino. Try this concoction in sandwich form at Mordi e Vai, an old-school panino spot at the Testaccio Market that serves up flavor-packed sandwiches to long lines of hungry locals each day.
13. Trapizzino in Testaccio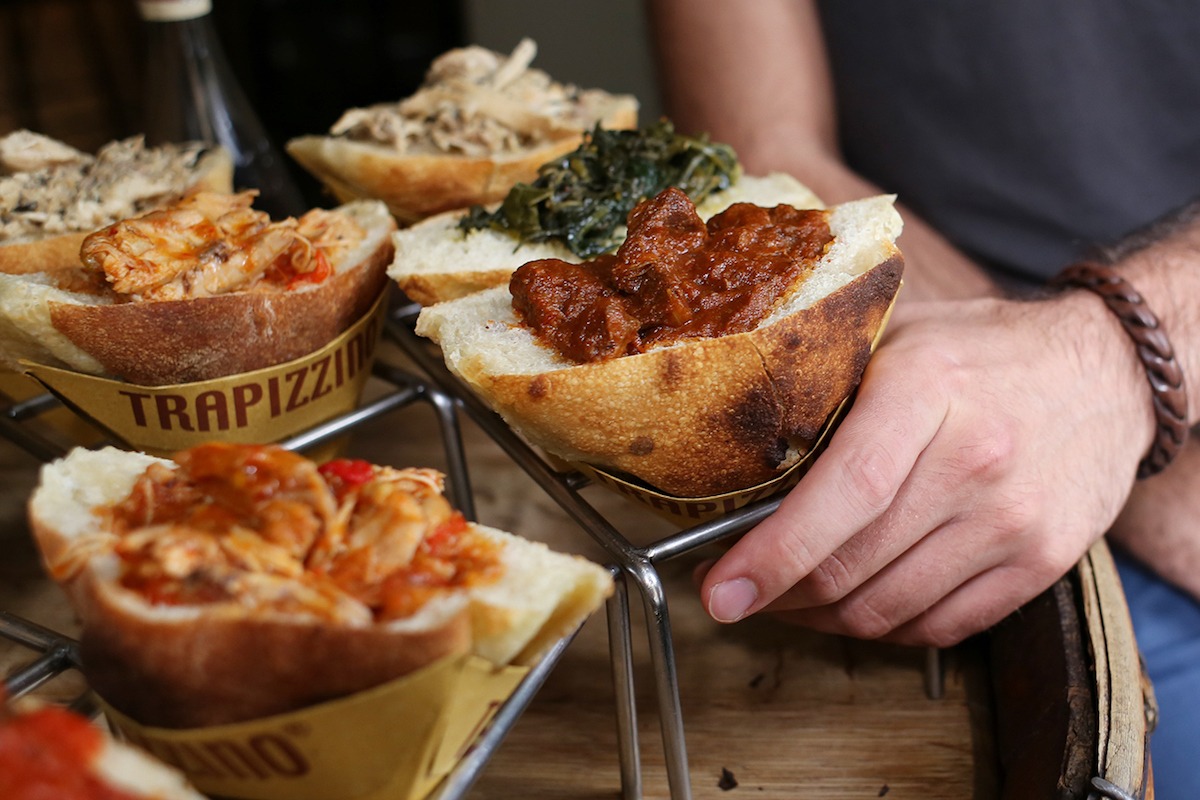 A more modern interpretation of sandwiches can be found at Trapizzino, where they serve a fluffy pizza pocket stuffed with lip-smacking concoctions such as eggplant parmesan with thick parmesan shavings or chicken with red pepper. Truly unique and incredibly tasty, Trapizzino is making its way abroad and has opened locations in Tokyo and New York. Try the original in Testaccio, though there are multiple locations in the city.
14. Cicoria Ripassata at Zi Umberto

Leafy greens may not sound particularly appealing or noteworthy, but Italians are masters at preparing vegetables. Hence, even lowly chicory becomes a shining element at the Roman table. Sautéed with oil, garlic and crushed red pepper, it is tangy, bitter and satisfyingly savory. You'll find it everywhere, but it is particularly delicious at Zi Umberto.